Been out of the car-building scene for a while now, but I've been quietly yearning for a new project. Really wanted to something different from what I did before - want something that is a nice cruiser rather than something that shoves you back into the seat and scares fellow road users.
I quite by accident stumbled on this 1966 Mercedes Benz 230S on a plot on a dirt road halfway to Harties. Had a chat to the owner, and was invited to just come and fetch the heap. Gonna have to see what I can do in terms of getting it registered in my name before I start spending cash on it...
Had a look at the car, and it is pretty much complete. It is in an absolutely shocking state though. LOTS of rust on the doors (will have to see if they can be saved), and a fair amount of rust elsewhere. The interior is complete, but pretty much ruined by years of standing in the sun.
Now my plan is obviously to restore the car, and to keep it looking as close to original as possible. This objective is obviously going to be a difficult thing to achieve, as parts are going to be rather difficult to find. One piece that already worries me is a piece of chrome beading that runs on top of the right rear fender - looks like this is actually the only piece of beading I'm missing though.
Now here comes the real question - what to do with regards to the engine? The original engine is still in there (well, most of it anyways). 2.3l straight six twin carb. Now just after a brief inspection I already see problems on the horizon - all the couplings where the water pipes join on the engine are corroded to hell. All the pipes are perished. The carbs are going to need an overhaul; looks like the air cleaner isn't complete; transmission might have issues too, as I see the clutch pedal is flat against the firewall. So I am pretty much of the opinion that it isn't going to make sense to fix that all up. So other options are to replace the engine with another Merc engine that actually has fuel injection and can run ULP. Somehow I think this is also going to lead to financial ruin at the end of the day with management and all the other bells and whistles. Now here's another option (and I'm leaning in this direction at this stage) - a Lexus V8 with Lexus auto box... Now I know this will make Merc aficionados cringe and howl in horror when they see this abomination, but this is not a car that will be entered in concourse events - this is just to be a nice, fun, smooth ride (me being a ballie and all)
This is going to be a rather long-term project - two reasons:
1. I hardly ever have a weekend at home
2. To my horror I found out I'm not part of the Oppenheimer family
Anyways - pictures...
Saw this poor thing left for dead behind a building among some bushes, crocodiles and bushmen
Six cylinder powa! (once upon a time in a land far-far away
)
So I rented a trailer and went off to go fetch it. Never expected it to be as much work as it was. First I pulled it out of it's (almost final) resting place
After lots of blood sweat, grumbles, mutters and outright cursing I finally got it to a spot to what was supposed to be the spot from where I could merely tow it up the hill and get it loaded. Had my 'Lux in low range, 4wd, diff locked and alles, but this car just didn't want to cooperate. All I succeeded in was digging 4 big holes at a time. Called it a day and towed the trailer back with nothing on it but dust.
After a plea for somebody to loan me some wheels, Sugar Bear put up his hand and loaned me some wheels that could hold air in the tyres. I went back to the Merc, armed with two trolley jacks, large socket set, bigass powerbar and two cans of Q20. I managed to get the drums and disks to turn again after liberal dosings of Q20 and more liberal addition of verbal encouragement (Kom ****** los, jou ********!!!), and put the inflated wheels on.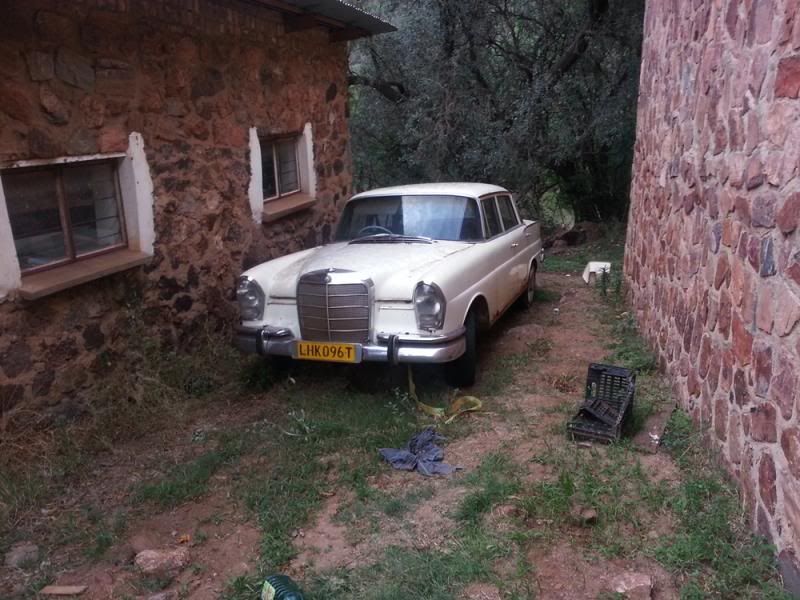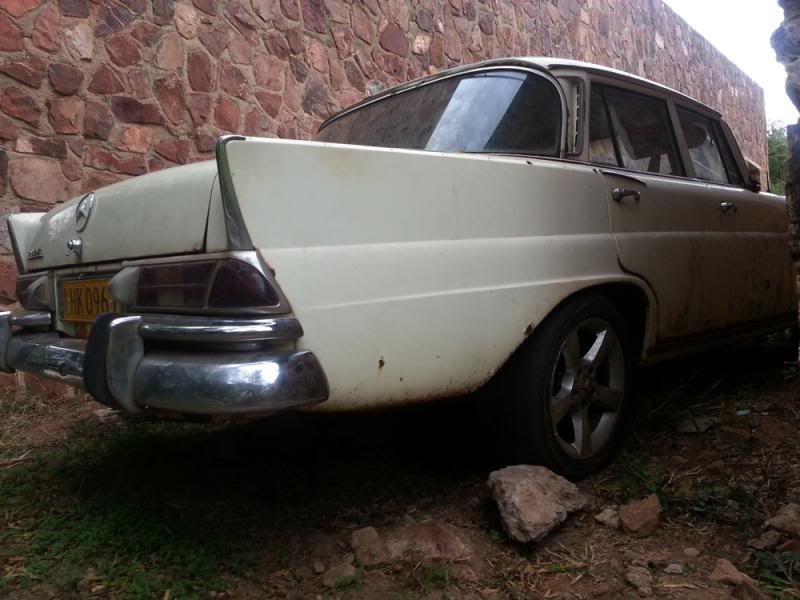 Off to National trailer rental again, and back to fetch the car. Managed to get her loaded after a bit of a struggle, and brought her home
I suppose now the real work starts. I suppose it would be best if I start at the bottom and work my way up. First get the suspension sorted out, then get her running, then rip everything out again before she goes for the bodywork. Upon her return the engine and transmission goes back in, then off to the upholsterers.
I must be a masochist