Ek het op hierdie site afgekom en dit val so mooi in my kraal as Toyota se top verkoopsman van Hiluxes (as entoesias natuurlik, nie as beroep nie).
So, as ek mag, kan ek myself voorstel? Ek is Leon aka Rock-Spider en hier is my storie.
My eerste 4x4 was 'n 80 series Toyota Landcruiser 4500 EFI. Wat 'n fantastiese voertuig maar baie dors. Ek het hom al baie jare terug verkoop agv sy drink gewoontes. Met sy agterste ARB airlocker en OME suspension was dit 'n baie bekwame voertuig en lekker toer voertuig ook.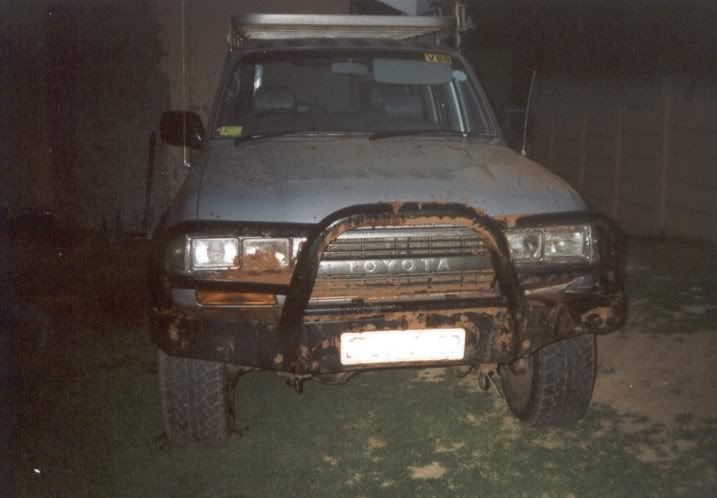 Toe die gogga te erg begin byt het, nog voordat ek die Cruiser verkoop het na so 'n paar duike op die Cruiser deur te erg te speel met hom, het ek 'n speelding opgebou dubbed Rock-Spider. Dit was 'n 1989 2.2 double cab Hilux. Dit het so 'n jaar of twee gevat maar ek het hom so bietjie gemod om op die klippe te speel. Modifikasie het ingesluit :
• Kort gat vir departure angle
• Blom se ou bumper bulbar (ek sien hy is ook hier)
• Scissor shackles agter
• Rubber suspension bushes met greaseable pins
• OME suspension
• Modified twisting stabilising bar op die voorste as vir daai lekker artikulasie
• 50 mm body lift
• Stel 33" BF muds en 'n stel 35" Simex's centipedes
• Spesiaal gemaakte negatief offset rims op 10J's (maksimum offset)
• Detroit Easy Locker agter en Lockrite voor
• Marlin Crawler (die 2 de een in SA). Die een box se ratios was ook verlaag na 4.7:1 toe. Wiel ratio, 206:1
• Corolla bucket seats
• 2.7 Hilux engine
• Rocksliders
• Sparewheel carier
• Rubberised binne (geen matte) en ook bak
• En verskeie ander klein mods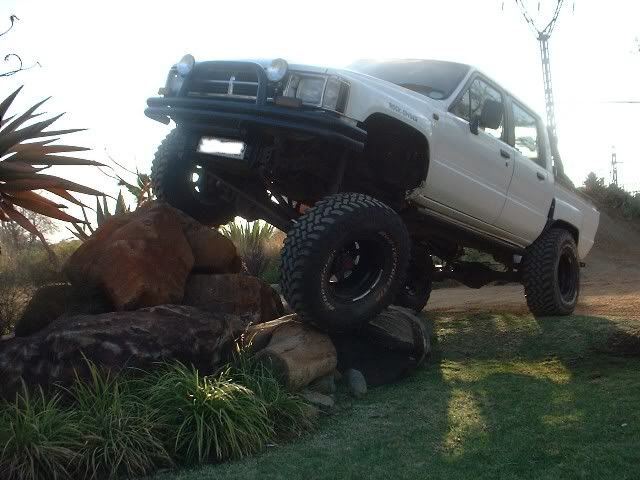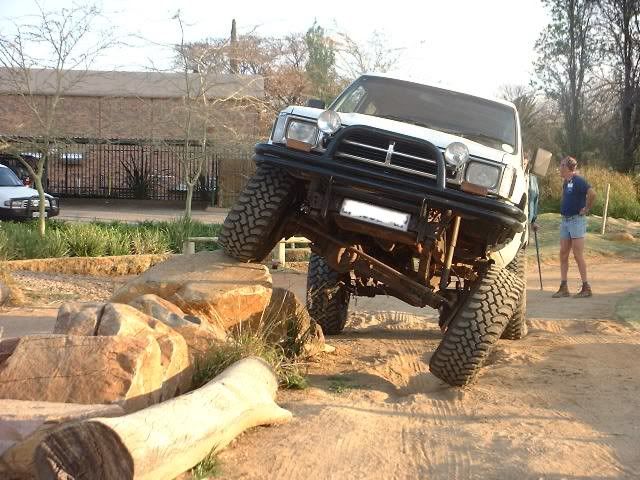 Ek het die Rock-Spider so 4 jaar gehad maar moes toe ontslae raak van hom om van die ex ook te kan ontslae raak … Miskien herken die nuutste eienaar die fotos en kan my laat weet hoe gaan dit met my babakie.
Intussen, toe ek die Cruiser verkoop het, het ek dit vervang met 'n 1999 model 2,7 Hilux double cab. Die 2.7 was my toervoertuig en die Rock-Spider my speelding. ( ek sal maar nie te veel vertel van hoe en waar ek die Rock-Spider gerol het nie)
Die 2.7 was ook nie heeltemal standard nie en het 'n Detroit Easylocker voor in gehad met die standard Toyota locker agter. Ek het 'n canopy packing system ontwerp wat uitstekend gewerk het (dit le nog steeds in my garage, enigiemand wat dalk sou belangstel om dit te koop?). Hy het 'n OME suspensie gehad met 31" BF Muds. "n nice bumper bulbar het hom ook 'n goeie approach angle gegee.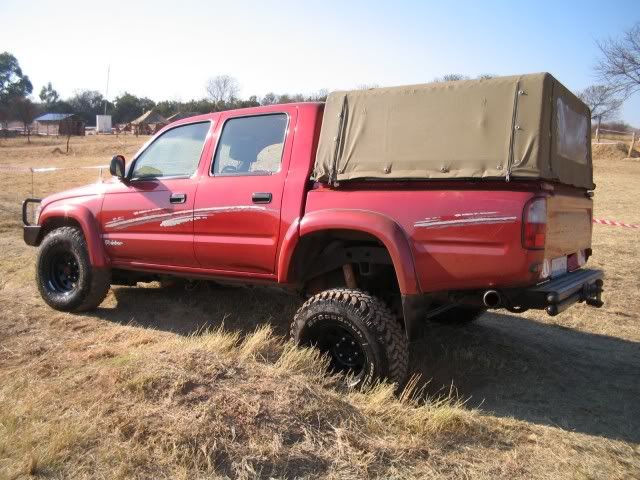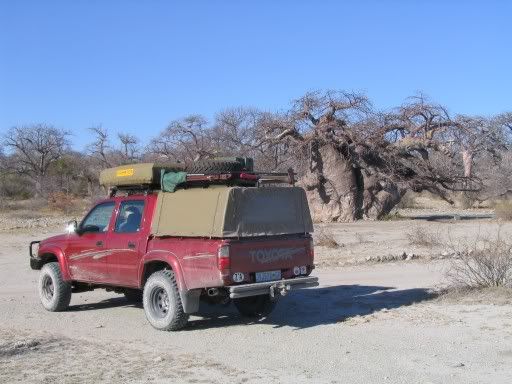 Na baie jare se goeie diens en 205,000 km later het ek hom laas jaar verkoop. Die bakkie was nogal capable met sy mods en het verskeie kere oe baie groot laat rek.
Nou ry ek 'n Fortuner 4.0 V6 4x4 outomaties en is so bietjie verdwaal van 4x4 maar is nou weer so lus ek kan my lag nie hou nie. Die Fortuner doen nie te sleg op die klippe met sy auto box nie maar is darem nie 'n speelding nie. Dit sal nog 'n jaar of twee vat voor ek bereid sal wees om die Fortuner te modify en hom seriously te begin gebruik.
Ek is nou opsoek na 'n 2.7 Hilux enkel cab wat ek weer kan opbou as 'n toervoertuig en 'n mild speelding, nes my ou 2.7 was. Ek het nog 'n volledige 2.7 gearbox engine en transfer in my garage so is baie lus om te kyk of Marlin 'n adapter vir my sal he.
Hier is so paar fotokies.
Groetnis
Rock-Spider