So I heard about an initiative in our area to raise some funds for the needy (in our area). Word only came to me on thursday but I thought I would go out and introduce myself to the people involved and see what it was all about.
A couple of guys have come together and once a year they host a 4x4 day on a farm nearby. All the proceeds are used to help some of the needy folk in our immediate vicinity. The owner of the property, Ras, is the man behind all of this and he also hosts an offroad day for bikers using the same same principles.
Anyhow, the actual day was last saturday where 18 vehicles took part. Because there were those who weren't able to make it at that time, Ras made an exception and hosted a 2cnd day (yesterday). We were only 3 vehicles but it shows the dedication that these guys show in willing to give up their day for only 3 vehicles.
Anyhow, I never intended in taking part. I have no experience whatsoever in actual 4x4 trails and as mentioned before, I just wanted to say Hi (as well as look at the venue as a potential host for a Free State GTG). When I got to the farm, a chap with the name of P.W was sent to fetch me and I was unceremoniously informed that it was do or die! Ther would be no spectating for me.
Now truth be told what I did was probably more that a little irresponsible! As mentioned before I have NO experience other than basic farm experience. I also hadn't made provision for a proper camera so please excuse the (potentially) poor photo's. A work collegue of mine used her phone and I think she did a sterling job none the less!
Due to the fact that I arrived late, I only joined in the middle of the trail after many (most?) obstacles had been done. My first obstacle was a steep descent with a rocky lip that tapered down to a small river.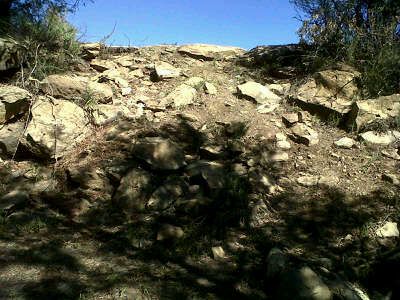 I had informed everyone about my inexperience before hand so Ras kindly got into my vehicle with me and proceeded to coach me down the obstacle - with guys at he bottom ensuring that my line was correct etc.
From there we proceeded by driving in the stream to a more technical obstacle where we had to go down a small rock step while squeezing through between two rock boulders on either side whilst turng to the right at the same time.
My photographer did not manage to capture the obstacle up close as this was a first for her as well and I think the experience was just as overwhelming for her too (i.e. she also needed spare underware on a few occasions.
) But we have the Jeep in action coming on behind us (where it belongs
)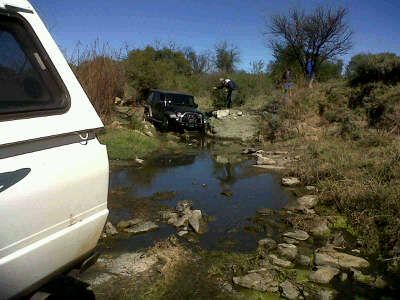 From there we proceeded to wind our way down the stream over rock banks and some rocky axle twisters.
The next obstacle was a climb out of the stream and I actually have no idea how to describe the obstacle. It involved some technical aspects as there was some axle twisting and we also had to make sure that we did not damage our vehicles on the sides. Initially I was sure that Ras was joking when he said I had to go through as I was convinced that the space was too small for a vehicle to go through. So we sent Johan first (with the Jeep) and afterwards I went followed by Wessel with an old Range Rover that really impressed me!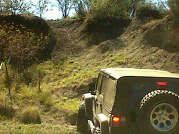 What goes up must come down so we came down again on a similar one to find ourselves in the stream once again. Next was an obstacle called Rooilippie! Wessel is an experienced trailer and commented that this would probably be a 5+ obstacle. He attempted to go up but was unsuccessful. He was of the opinion that some of the obstacles on the trail were a little extreme but definately do-able. Just the thought of going up was enough for me to require new underware but little did I know that soon I would have to come down that very same obstacle.....
Let me just take a moment to describe the next photo of said obstacle. Acually I don't know how! The photo doesn't do it any justice at all!!! You start with a drop of about 500 - 800mm. Verticle. From there it slants out down towards the river. The thing is that you need to come down exactly straight, but the drop (as can bee seen on the photo) is not exactly the same height all through. If I can remember correctly ( not too sure -was too busy applying some serious sphincter control
) as your wheels go down the verticle part, one side hits the slope first which causes your vehicle to lean over quite a bit to the other side.So not only do you have to contend with a steep downhill, but you are tilted over to the side as well. The instructions given to me were to come down straight & slow, then as soon as the vehicle started to slide - leave everything - brakes & clutch
or else if I hit the brakes the vehicle could flip over forward
. This goes against every normal driving instinct but I did exactly that and everything went smoothly. Of course, when I hit the bottom everyone cheered then burst out laughing - apparently something to do with the expression on my face as well as physically watching someone crap himself
(I'm having difficulty loading the next photo, will try a little later). Seems our internet access is down so I'll complete the report later.
Ok back on track. The photo mentioned above is the one so kindly posted by F_D for me so I won't post it again.
After this obstacle we proceeded to a number of axle twisters. I heard some pretty nasty sounds coming from my truck's suspension - don't hope I damaged anything!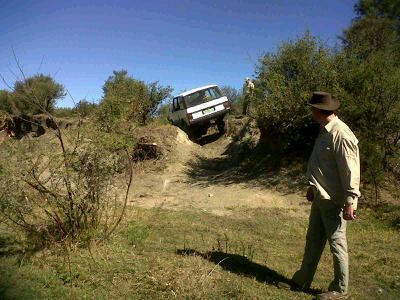 What impressed me was the range of articultion that the Range Rover had. My Lux couldn't match it
The following photo is just one of the places we went down. We were basically just playing around.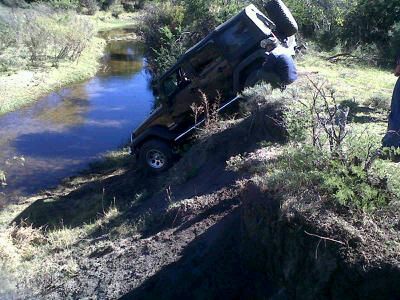 All in all it was an enjoyable day. Most of the obstacles are natural. The few photo's I managed to take were only a few of the obstacle I managed to do.
While I don't advocate doing what I did with no experience whatsoever - it was an eye opener with regards to the capabilities of our vehicles! I don't think I'll be doing this on a regular basis with The Hulk, but I'll definately rig Baasvark up for the future...